Notice on the application of 3D Secure protection standards for online payments
Dear Clients,
We would like to inform you that Privredna banka Sarajevo d.d. will start implementing the 3D Secure standard of protection of payments via the Internet at web points of sale that support this service from July 23, 2020.
All bank customers who are users of payment cards will be able to use this service free of charge.
The application of this standard will increase security when purchasing goods or services online, and will reduce the possibility of misuse of payment cards in such a way that depending on the merchant you will have to approve the transaction in the following way:
When making a purchase, it is necessary to enter the usual data, after which the "Purchase Authentication" window opens. This window contains basic information about the transaction (amount, date of transaction and name of the merchant), and to continue it is necessary to press the "Send SMS" button, that is, to cancel the payment it is necessary to press the "Cancel" button.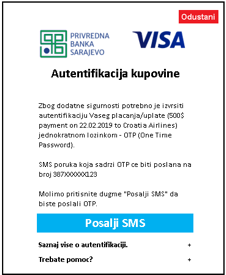 If you have continued shopping on the mobile phone number that you provided to the Bank when opening the account, you will receive a one-time password (OTP – One Time Password) which you need to enter on the next screen that you are shown.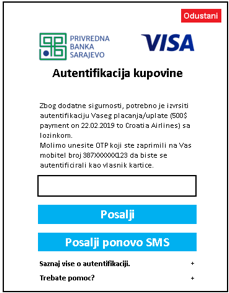 In case there was an error entering the OTP, it is necessary to regenerate the new one by pressing the "Send SMS again" button.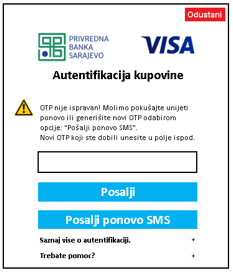 Note:
Clients who want to make payments online, and do not have an updated mobile phone number to which it is necessary to submit a one-time password for the approval of the transaction, must submit the number for these purposes to the nearest branch of the Bank.